Did you find a clock on my site that you like, but you'd prefer a different border color? Or you're looking for a particular dog breed or critter and I don't have a clock with them on it? If so, let's talk!

I have over 170 different dog breeds represented on rubber stamps. As well as many, many (did I say many?) rubber stamps of numerous other critters, such as bears, moose, tigers, cougars, deer, elk, zebras, horses, cats and on and on. Yeah, I like animals!

(Please note I don't have any stamps of snakes, frogs, gators and the like. Oh, monkeys and other primates. I find it hard to stamp something I'm not too keen about.)

Email and let me know what you have in mind. I'll stamp up a clock for you and email you a quick snap of it. You're not under any obligation to purchase if it wasn't quite what you were thinking of.

My turn around time should be approximately 1-2 weeks, but I'll have a better idea when you email me.

Colors! Yep, you can choose the color of the border that you want on your custom clock by picking one of the colors that's on another clock - all clocks have the color I used for the border listed after the description. Please be aware that the color you're seeing may not be exactly what you'll get when you get your custom clock as your monitor might show it differently from what it really is. If so, that's not a reason to return it, as that's out of my control - sorry.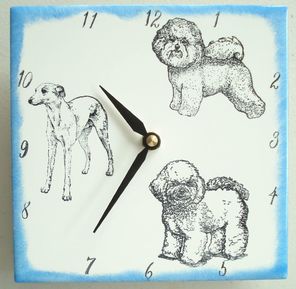 Here's an example of a clock I made for my cousin that has both Bichons and an Italian Greyhound. I thought it turned out quite nice.

---